The Low Down on Flavored Gin
Flavored gin has been on a white-hot streak in England, the spiritual birthplace of gin. Over the past year or so, it has jumped the pond and is slowly starting to show up on liquor shelves here in the U.S.

Yet, here's the problem: How do you define flavored gin? Gin already is required to contain pine-scented juniper as its dominant flavoring. Since specific parameters aren't yet available in either country, we'll categorize any gin that has readily identifiable flavoring in addition to juniper as a flavored gin. It depends on the botanicals the distiller wants to promote and champion. Juniper will always be included, but it's up to the distiller to decide which other flavorings will shine through. 

Like flavored vodkas, most flavored gins are not particularly subtle. In fact, some seemed very familiar, like flavored vodkas recast with a bit of brisk juniper. The bottlings sampled this month neatly divide into three categories: citrus, from sunny lemon to tangy blood orange; other fruit, including a number that resemble plummy, sweetened sloe gins; and floral, spanning rose, chamomile and elderflower varieties.
​​​​​​​
How do you define flavored gin? Gin already is required to contain pine-scented juniper as its dominant flavoring.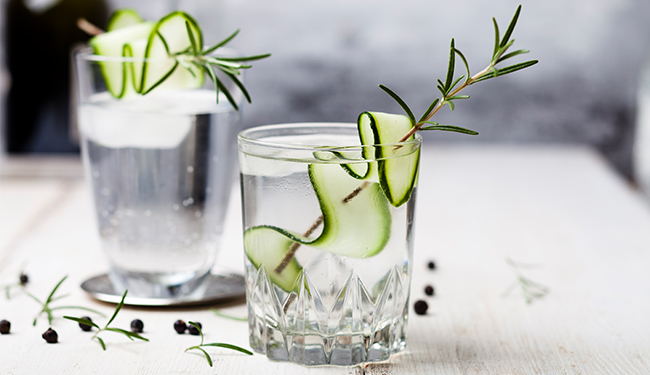 Another point of confusion: How to drink these new flavored gins? In general, bubbly highballs seem to be the preferred vehicle, particularly for Gin & Tonics. That said, some wonder if soda water—a more neutral, less sweet mixer—might provide a more appropriate foil. Compared to Brits, who overwhelmingly prefer G&Ts, it's possible that American consumers, who enjoy plenty of flavored vodka-sodas, might find flavored gin-and-soda combos more appealing. Enjoy exploring this burgeoning category of gin. Cheers!

Sloe Gin

Look for a deep cherry hue and a bold, inviting aroma that suggests cherry pie filling. This luscious gin drinks like a liqueur, loaded with sweet-tart cherry upfront, and a hint of Christmas baking spice reminiscent of mulled wine.

Pink Grapefruit & Pomelo Gin

This flavored gin has a demure pink blush and grapefruit peel aroma. The palate is silky and light, opening with grapefruit peel bitterness and following through with notes of white pepper, rosemary, and faint hints of ginger and clove heat. Should make for an interesting spin on Gin & Tonics.

Lemon Flavored Gin

Clear in the glass, this flavored gin, made with Italian lemons, offers gentle lemon and grapefruit peel aromas. The bracing, lightly sweet palate has a nice authentic lemon flavor, with hints of peel and pith, finishing appropriately bitter. Skip the lemon twist, and mix into Martinis and other drinks.

Rose Petal Flavored Gin

Rose petals and elderberries lend a golden hue and pleasant, mildly floral aroma. The light, tingly palate leads with juniper and rosemary, leaning into a fleeting juicy orange note midpalate, finishing long with eucalyptus, mint and a faintly floral exhale. 

Blueberry Flavored Gin

The faint aroma mixes notes of berry and savory dried-herb. The palate is light, with a powdery feel. Juniper and mint lead into a juicy midpalate and long finish that shows coriander, orris root and a hint of lavender. 

Chamomile Flavored Gin

Chamomile, nutmeg and rose petal infuse this gin made from a base of corn and Ohio apples. Look for a pale yellow hue and warm honey aroma. The palate suggests chamomile tea mixed with honey, and finishes with nutmeg and other baking spices, plus a mentholated exhale.

Plum Flavored Gin

A plum-infused gin with orange rind and hops, look for a reddish-orange hue and mild berry aroma. The palate is round and subtle, opening with a gentle wash of fruit and finishing with mild cinnamon spice.