Hanna Winery: Honoring Heritage while Taking Risks 
Christine (Chris) Hanna took the helm of her family's business in 1991, guiding the winery's strategic expansion and paving the way for Hanna to become the iconic Sonoma winery it is today, producing exceptional Sauvignon Blanc, Chardonnay and Cabernet Sauvignon. Now with over 250 acres in five premier vineyard locations and annual production of 60,000 cases per year, Hanna Winery remains devoted to the diverse terroir of the region, the farm to table movement, and true Sonoma lifestyle.

It all started when Chris' father, Dr. Elias Hanna, a groundbreaking cardiac surgeon, sought a break from the city and found a place in the country to relax with his family. He purchased 12 acres of Sonoma countryside and taught his children to move with the rhythm of the seasons: growing fruit and vegetables, raising chickens, and ultimately making wine. In 1985, they turned their family pastime into a business and Hanna Winery was born.

Today, Hanna Winery honors its heritage while taking risks and adapting in the face of modern challenges. Though Hanna is known far and wide for its incomparable Sauvignon Blanc, Cabernet Sauvignon might provide the best window into the Hanna Winery approach. Showcasing terroir in action, Hanna highlights their rich Alexander Valley Red Ranch vineyard, which is planted to 50 acres of Cabernet Sauvignon, 10 acres of Malbec, and just over a half-acre of the almost extinct St. Macaire. 
Hanna Winery remains devoted to the diverse terroir of the region, the farm to table movement, and true Sonoma lifestyle.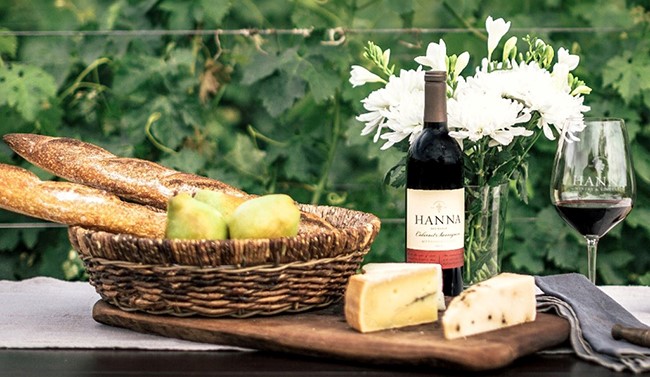 St. Macaire was discovered by Hanna's erudite winemaker Jeff Hinchliffe. It is an ancient and rare variety from Bordeaux with only one total acre planted in California, of which Hanna has half. Climate change and its effects are daily realities for Hanna Winery, so planning for the future is key and this nearly extinct varietal retains both its color and acid in high temperatures.

The use of St. Macaire is not the only way that Hanna takes risks in its Cabernet. Cabernet Sauvignon is typically blended with Merlot – but not at Hanna. Instead, Jeff adds Malbec which adds complexity and a supple mouthfeel to Cabernet's strength. 

The wine reveals Rainier cherry, Nadia cherry plum and fig tapenade trailed by hints of vanilla, incense cedar, and graham cracker. Flavors are reminiscent of elderberry with a hint of Sonoma sage that pairs perfectly with the cozy dishes of fall: a shared cheese board, slow braises, roast lamb, and chili.

"My job is to make sure that we're making a beautiful product that we can be proud of and that we can continue to be family owned and operated for generations to come," Chris says.