Your Cheat Sheet to the Best Italian Rosé
Fans of crisp, savory rosé should familiarize themselves with Italy's bounty of beautiful pink-hued offerings. While in the past it was not common throughout much of the country, producers from north to south have ramped up production of stellar vini rosati from native and international grapes. There are a number of styles and designations, but the best are bright, vibrant and dry. Here's your cheat sheet to the best rosatos out there.

Veneto

Around Lake Garda, where the Veneto and Lombardy regions converge, the production of rosato is a long-standing tradition. Known locally as Chiaretto, meaning "light" or "pale," it was first made in the area in 1896, which makes the region one of the oldest rosé producing areas in Italy.

There, the most famous appellation for rosato is Bardolino Chiaretto. It was recently renamed Chiaretto di Bardolino, so bottles may carry either designation. The wines are made exclusively from red grapes grown in the province of Verona.

Corvina is the main variety utilized, blended with Rondinella or Molinara, all grapes that are also used in Amarone, Valpolicella and Bardolino for the region's classic reds.

Until five years ago, most winemakers obtained Bardolino Chiaretto by "bleeding" the must of their red wines. The technique, called saignée in French and salasso in Italian, both of which mean to bleed, takes a portion of red grape juice after short contact with the skins and seeds to be fermented separately for rosé. Critics argue that the technique's true purpose is to create more concentrated red wines, and the resulting rosatos are simply byproducts.

In 2014, the Bardolino consortium launched a so-called "Rosé Revolution." The campaign encouraged producers to make lighter-colored, fresher Chiaretto by urging the use of grapes grown specifically for rosato, along with earlier harvests to retain more acidity and vinification like that of white wines, with minimal skin contact. It's led to more vibrant, pale Chiarettos that boast floral, red berry, citrus and spice sensations.

Tuscany

Rosato production in Tuscany, one of Italy's premier red-wine regions, has taken off over the last several years. Producers use a plethora of grapes, from noble, native Sangiovese to international varieties like Cabernet Sauvignon.

While some winemakers use the salasso method to create bright pink rosatos with structure, an increasing number of producers now harvest grapes specifically to craft crisp, energetic offerings through other production methods that employ minimal skin contact.

Sangiovese's high acidity makes the grape extremely adaptable to various winemaking techniques. However, the best and freshest are made with Sangiovese grapes destined for rosato, not any sort of red wine spin-off.

Meanwhile, before red wines produced with international varieties took off, Bolgheri turned out almost all white and rosé selections. Rosato from the Bolgheri Denominazione di Origine Controllata (DOC) is vibrant and savory, due in great part to the appellation's coastal location. International red varieties are used mostly, although up to 50% Sangiovese can be included.
 
There, the most famous appellation for rosato is Bardolino Chiaretto. The wines are made exclusively from red grapes grown in the province of Verona.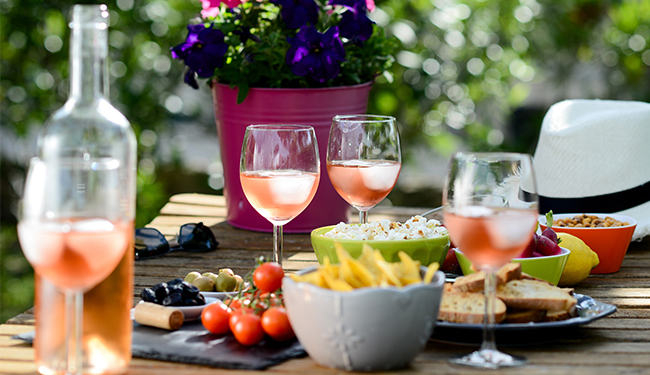 Abruzzo

Nestled between the peaks of the Apennines and the Adriadic Sea, Abruzzo's hilly and coastal wine regions are well suited to the Montepulciano grape. The region's main variety, it's the focus of the red-wine production of Montepulciano d'Abruzzo, but the grape is also used to make the bold, cherry-hued rosatos of Cerasuolo d'Abruzzo. In the past, farmers used the same grapes to create different types of wine with staggered releases.

Cerasuolo, which means "cherry," references the wine's typical deep pink hue, a result of the rich pigments found in the skin of the Montepulciano grape. The grapes typically undergo a short maceration period of a few hours before the must and juice are separated. The wines are often rich in color and well structured by framing tannins and tangy acidity, with plenty of cherry, berry and herb flavors. Top examples can be enjoyed a few years after bottling, which bucks the trend of drink-now rosés.

While Abruzzo's red wines have been well received outside of the region, its pink-hued offerings have traditionally been appreciated and consumed on a local level.

The establishment of the Cerasuolo d'Abruzzo DOC in 2010 aided in global recognition of the style, and it has since gained notoriety as one of the best appellations for quality Italian rosato. 

Puglia

Defined by an endless turquoise coastline speckled with white sandy beaches and quiet seaside towns, this southern Italian locale has proved hospitable for rosato. While the vibe in Puglia may be relaxed, the wines are serious. Rosato production dates back more than 75 years, with the first commercial bottling. Clearly, this is no passing fad.

Though the region grows a wide array of native and international red grapes for rosato production, it's the Negroamaro-based bottlings that are some of the best examples. The variety delivers both structure and bright acidity, key for a quality rosé. Alone, however, the grape often fails to offer a complete package.

Susumaniello and Malvasia Nera, another common blending grape, are rich in anthocyanins, or pigments, which impart a coral-pink hue to the wines. The two varieties also deliver fruity and floral elements that help round out the blend and result in bold yet balanced rosatos.

Farther inland is the Castel del Monte appellation. Within the area, the Castel del Monte Bombino Nero Denominazione di Origine Controllata e Garantita (DOCG), established as a separate designation from the larger appellation in 2011, is the home of the Bombino Nero grape. It's also one of Italy's only DOCGs dedicated exclusively to rosato.

Bombino Nero is a thin-skinned grape that shows uneven bunch ripening. This results in high acidity and low sugar, both welcome attributes for rosato production. Wines produced from the variety are typically boisterous and fruity in strawberry and watermelon flavors, which make them immensely accessible and easy to enjoy.

Sicily

The largest island in the Mediterranean, Sicily's wine scene is booming, and rosato production is no exception. Bottlings from both native and international grapes are produced across its landscape, with colors that range from light onion skin to deep pink. They can be fruity or floral, but nearly all showcase a savory salinity.

One of the island's most exciting winemaking regions is Mount Etna. The area turns out vibrant and intriguing rosatos, thanks to its unique combination of indigenous grapes, soaring vineyard altitudes, volcanic soils and intense sunlight. Those factors are also coupled with cooler, wetter growing conditions in comparison to the rest of Sicily.

Nerello Mascalese is the native grape that serves as the backbone of Etna's elegant, racy rosatos. It yields crisp stylings when harvested early and vinified like a white wine. Alternately, several hours of skin contact yields more fruit and deeper color.

In other parts of Sicily, producers make pink offerings from Nero d'Avola as well as a variety of international grapes. Syrah is one that often shows especially well. Syrah expresses unique characteristics, due to the depth and freshness of the soil.