A Six-Bottle Master Class to Pinot Grigio
One of the world's most popular white wine grapes, Pinot Grigio is also known as Pinot Gris. The name means "gray" Pinot in Italian or French, respectively, and refers to the pinkish-ash hue of the berries, which mutated in France from the red grape Pinot Noir.

Both Italy and France produce the variety, notably in Northern Italy and Alsace, France. Due to its popularity and versatility, the grape has spread around the world to areas that include California, Oregon, Australia, and New Zealand.

Pinot Grigio, as most Americans know it, can be sublime or insipid. As consumer awareness of the grape grew in the 1990s, it became a victim of its own success. Italian producers often emphasized volume over quality to keep up with demand. Bottles of simple, easy-drinking wine flooded shelves across the U.S., which diluted the grape's once-heralded reputation.

Yet, Pinot Gris/Grigio is one of the world's most popular grapes precisely because it's capable of a range of styles and flavors, depending on where it's grown and the winemaker's vision. Its wines can refresh on a hot day with their light and zesty lemon character, or they can complement food when voluptuous and concentrated.

Tasting flights are the best way to recognize those differences. Begin your Pinot Gris/Grigio exploration with three groupings: French Pinot Gris versus Italian Pinot Grigio; cool-climate versus warm-climate Pinot Gris/Grigio; and high-volume versus small-production Pinot Grigio. As you taste, record the aromas, flavors, and textures you experience, then compare notes between wines.

Of course, customers will need to pick up a few bottles, so we've included tips on what to recommend.
Pinot Gris/Grigio is one of the world's most popular grapes precisely because it's capable of a range of styles and flavors, depending on where it's grown and the winemaker's vision.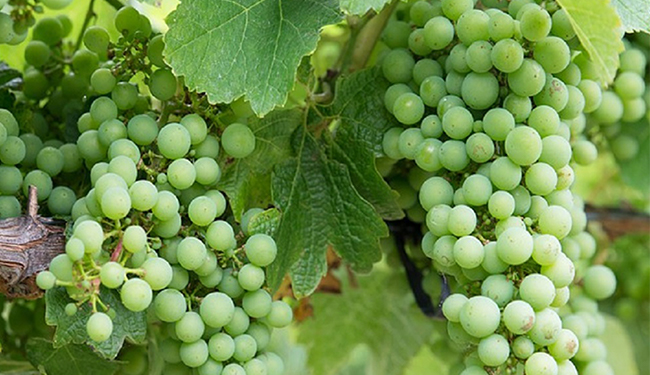 French Pinot Gris vs. Italian Pinot Grigio

Though most Americans think of Pinot Grigio as Italian, the grape originated in France. It has a long history in Alsace that dates to the 16th century. Alsatian winemakers consider Pinot Gris one of four noble white grapes which they label on bottles.

One joy of Pinot Gris from Alsace is the lifetime of discoveries it provides. Producers dabble with different styles, and each wine is reflective of site, vintage, and winemaking techniques.

While Alsatians promote their dry expressions, Pinot Gris is capable of extraordinary off-dry and sweet styles, especially from designated Grand Cru vineyards. The sunny, dry climate of Alsace accumulates sugars for sweet wines like late-picked Vendanges Tardives or Séleccions des Grains Nobles.

To compare Alsace with Italy, however, look for dry wines. Due to climate and later harvests, Alsace Pinot Gris generally offers more alcohol, body, and weight than most Northern Italian Pinot Grigio. They are wines of substance and, at their long-lived best, gravitas.

Generally and stylistically, Gris and Grigio are so different that New World producers often label their wines based on which style they seek to emulate. Gris has complex, earthy aromas, and flavors of orchard fruit, honeysuckle, and spice, as well as flint and smoke from volcanic sites.

In Italy, Pinot Grigio grows everywhere, but it flourishes in the north. The cooler climate around mountainous Alto Adige, and to a lesser extent, Friuli-Venezia Giulia and the Veneto, produces lean, bright, and focused wines with citrus and mineral characteristics. Many are meant to enjoy in their youth.

Cool-Climate vs. Warm-Climate Pinot Gris/Grigio

To compare cool-climate wines to their warm-climate contemporaries has long been to position Old World against New World, which pits Europe versus the Americas, Australia, and New Zealand.

However, there are plenty of New World regions with low enough average temperatures during the growing season to be classified as cool climates. Elevation also plays a key role. Winemakers in warm regions often seek high-elevation vineyard sites to benefit from cooling mountainous winds and significant diurnal temperature swings.

Climate matters because it informs which grapes will thrive and the subsequent styles that can be made. Two New World regions that grow great Pinot Gris are Willamette Valley, Oregon; and Marlborough, New Zealand.

High-Volume vs. Small-Production Pinot Grigio

High-volume Pinot Grigio refers to wine made in large quantities from vineyards farmed for large yields. Winemaking is done by formula to achieve consistency year after year, with production completed generally in large stainless-steel tanks. The goal is widespread appeal, accessible pricing, and youthful consumption.

Most commercial Pinot Grigio from Italy comes from the broader appellations in the Veneto region of Venezia Giulia Indicazione Geografica Tipica (IGT) and Delle Venezie Denominazione di Origine Controllata (DOC).

These wines are crisp, light in body, and have an austere lemon-lime character, a result of short fermentation times in temperature-controlled tanks. Such quick winemaking, required to fulfill commercial contracts, gives little chance for wines to develop deep or complex flavor profiles.

By contrast, Pinot Grigio made in smaller batches often strives to emphasize terroir, vintage, and craftsmanship. Small, quality-minded producers in Alto Adige, in the mountainous north, and sections of Friuli-Venezia Giulia, or Friuli, for short, make exceptional Pinot Grigio of complexity and ageability.

From Friuli, search for wines from hillside vineyards in Collio and Friuli Colli Orientali, the two most acclaimed DOCs. Collio, near Slovenia, makes bright, fruity wines. Friuli Colli Orientali, at the foothills of the Dolomites, produces Pinot Grigio of finesse.

Winemaking standards in both Alto Adige and Friuli are high. Typically, grapes are hand-harvested from low-yielding vines, which means the fruit has more flavor and avoids early oxidation from bruising.

Across all stages of the production process, from viticulture to skin-contact and barrel-aging techniques, wines are handled with care. It gives them a greater dimension, texture, and vitality.

How do you know what kind of Pinot Grigio you're buying? Price is the first indicator. Small-production wines will typically cost a bit more, starting in the low $20s up to $50 for well-known producers in Friuli.
​​​​​​​
​​​​​​​​​​​​​​