Top 8 Wine Varietals for Fall  
As the changing leaves scent the air and cozy sweaters ward off the autumnal chill, it's time to move away from the crisp whites of summer. While wines never truly go out of season, try recommending something new to your customers and guests that pairs with hearty fall flavors and relaxed evenings around a crackling fire.   
Here is a list of the varietals we are "falling" for.

1. CALIFORNIA PINOT NOIR
California Pinot Noir is typically rich, fruity, and lush in style. The ample sun and controlled temperatures make it easy for winemakers to pick at the perfect moment when ripeness is optimal. Besides brooding rich fruit flavors, many of these wines have subtle allspice undertones from aging in imported French oak barrels.
A very versatile wine given its higher acidity and lower tannin, think crispy-skinned pork roast or duck and earthy mushrooms for that perfect pairing of food and wine.

2. VIOGNIER
This highly aromatic variety is often associated with aromas and flavors of apricot, peach, and flower blossoms. The wines are medium to full in body, low in acidity, and are often described as having an oily texture.
This varietal hails from the Rhône Valley in France where it's often blended with Marsanne and Roussanne. White Rhône blends have notes of golden apple, walnut, and cream, and make a flawless match with herb-roasted chicken and spicy flavors. 
3. CHARDONNAY
One of the most popular and widely planted white grapes in the world, Chardonnay produces some of the world's most iconic white wines. The crisp, unoaked Chardonnays of summer give way to the buttery vanilla and toast notes of oaked Chardonnay that reflect the flavors of fall.

Crisp apples with pork tenderloin, as well as rich vegetables like mushrooms, pumpkin, or squash come to mind when pairing an oaky Chardonnay.  But for a fireside treat, recommend pairing an oaky Chardonnay with an "Elvis" inspired S'more to cut through the peanut butter and banana flavors. Nestle that toasted marshmallow between two graham crackers with peanut butter, banana slices, and crisp bacon.  Yum!
 
While wines never truly go out of season, try recommending something new to your customers and guests that pairs with hearty fall flavors and relaxed evenings around a crackling fire.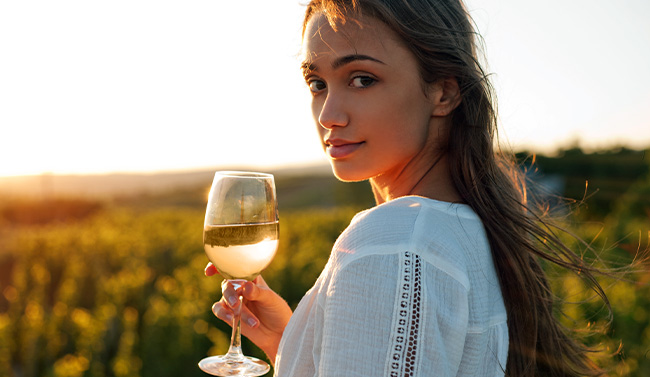 4. MERLOT

Merlot is an oak-aged wine that is wonderful for fall. Red fruits, easy tannins, and a soft finish are the characteristics of Merlot wine. But there's more to this varietal than being smooth. 
Merlot pairs well with roasted autumn vegetables.  Some of the best proteins to pair with Merlot are roast poultry and lean cuts of beef.  And it is a stellar option when making savory fall stews such as Beef Bourguignon.
5. ITALIAN ROSÉ

Italy's top grape, Sangiovese, is one of the most under-appreciated rosé grapes out there. In Italy, these wines are usually labeled as "rosato" which is the Italian way of saying "pink."
Sangiovese is bold enough as a variety to handle a variety of foods that normally would be problematic to pair with wine. Its notes of tart cranberry, strawberry, cherry, and herbs make it a great pairing for spicy Asian food, and naturally, pizza and pasta.
6. TEMPRANILLO

Spanish Tempranillo delivers contrasting flavors of dried fig, earthy tobacco, and baking spices like cinnamon and cloves. The finer the wine, the more balance there is between earth and fruit.

With the earthy, spicy notes, Tempranillo is like the wine equivalent of the fall classic, pumpkin spice. It pairs well with chili con carne, roast lamb, and baked ziti.
7. CHENIN BLANC
A rich white wine that's perfect for fall is Chenin Blanc. It has notes of baked apple, ginger, and toasted almond. With Chenin Blanc's awesome acidity and inherently sweet flavor, it pairs well with foods that have a sweet and sour element. Southeast Asian cuisine or pork chops with apples paired with a richer and sweeter style Chenin Blanc are next-level amazing.  

Don't forget Thanksgiving turkey! Try Chenin Blanc with your Thanksgiving dinner. It will even handle the cranberry sauce like a pro. 
8. CABERNET FRANC

A parent grape of Cabernet Sauvignon, Cabernet is loved for its savory, bell pepper and chili pepper flavors, medium-high acidity, and mouthwatering taste, which make it a great choice for fall menus. 

Due to its naturally high acidity and slightly reduced tannin this varietal can pair with a wide variety of food.  Think rich and fatty foods, vinegar-based dishes, and tomato-based dishes. Because of the herbal undertones of the grape, Cabernet Franc shines when paired with dishes using fresh herbs instead of dry.

9. ZINFANDEL

Zinfandel is a bold, fruit-forward red that's loved for its jammy fruit and smoky, exotic spice notes. The baking spice notes may make it THE perfect wine for fall. 

If beefy, slow-roasted short ribs are on the menu, Zinfandel is the perfect accompaniment.  Spaghetti and meatballs, baked sausage and ziti, or classic lasagna also call for a bold, fruit-forward Zin.  Actually,  any meat and tomato sauce dish makes for the ideal fall pairing.
Whether your customers and guests prefer red, white, or rosé there is a wine you can recommend that they will enjoy this fall.