Celebrate National Gin & Tonic Day
The Gin & Tonic is undoubtedly one of the most popular cocktails in the world, that's why we celebrate it on National Gin & Tonic day on April 9th!  It's the go-to cocktail in Spain, where a particular gin's botanicals are paired specifically with tonic water and an array of aromatic garnishes, the resulting creation generally served in a goblet. It's an at-home staple in the U.K., where the number of craft tonic waters on the market are virtually endless, as are craft gins that have boomed concurrently. It's also a summer staple for many Americans, who generally just keep it simple with whatever gin and tonic water is available at the local grocery store, but bartenders have begun to elevate the refreshing classic with higher-end tonic waters, selected to complement the gin used.

Regardless of where in the world you're drinking one, a few factors are vital for ensuring the drink is as refreshing and delicious as possible: You'll want to use a high-quality gin and equally high-quality tonic water, and make sure the cocktail is as cold as possible. Chill the glass, chill the tonic water, make sure your ice is freshly made and dense, and you're in for a guzzler of a cocktail. 

These are two variations on the popular Gin & Tonic for you to whip up for your customers or for them to try at home! 
​​​​​​​​​​​​​​
Garden & Gin Tonic​​​​​​​



Drawing inspiration from the garnish-heavy Spanish-style Gin & Tonic, the Garden Gin & Tonic uses gin and dry vermouth paired with a couple of dashes of orange bitters and a bouquet of summery garnishes that include a strawberry, grapefruit and lemon wheels, cucumber slices, and a lavender sprig, all served in a goblet.
​​​​​​​
Ingredients:
1½ ounces gin
½ ounce vermouth
2 dashes of orange bitters
tonic water, to top
garnish: strawberry
garnish: grapefruit wheel
garnish: lemon wheel
garnish: cucumber slices
garnish: lavender sprig
Directions:
​​​​​​​
Add all ingredients except the tonic to a goblet or wine glass and fill with fresh ice.

Top with tonic water and garnish with grapefruit and lemon wheels, cucumber slices, strawberries, and a lavender sprig.


​​​​​​​​​​​​​​
Spanish Gin & Tonic
​​​​​​​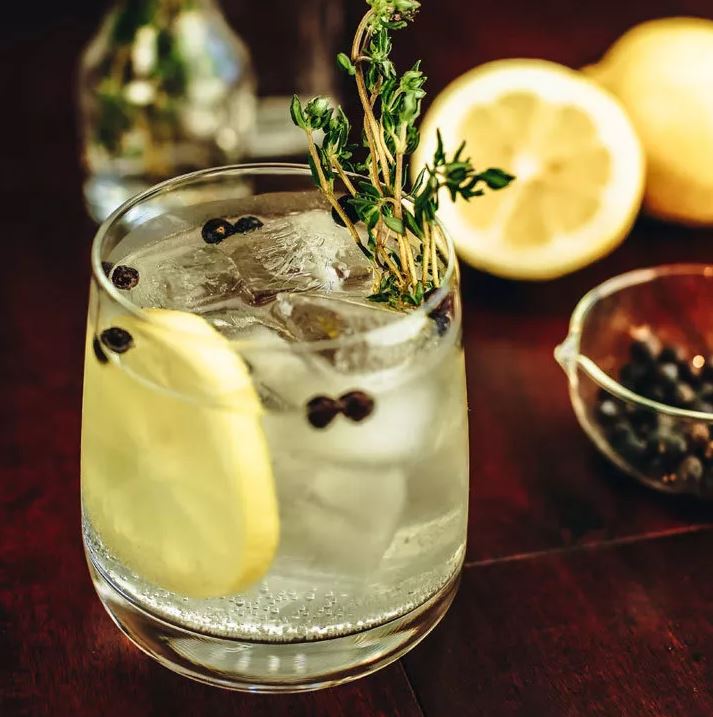 If you've never had your Gin & Tonic the Spanish way, then this recipe is a must-try. Since it's said that 90% of what is perceived as taste is actually due to smell, the aromatic focus of this G&T style displays just how much creative garnish pairings can add to a cocktail. This version employs a London dry gin and craft tonic paired with a menagerie of garnishes including a lemon wheel, thyme, and juniper berries.
​​​​​​​
Ingredients:
Directions:
 
Pour the gin into a wine glass filled ¾ full with ice. Top with the tonic. Garnish with juniper berries, a lemon wheel, and thyme sprig.
​​​​​​​
​​​​​​​​​​