Cocktails to Celebrate National Tequila Day
All hail the agave plant! Think of tequila cocktails and the Margarita is sure to come to mind. It's a great drink, sure, but the agave spirits can be used in so much more than just that. From the disco-era Tequila Sunrise, the classic Old Fashioned and Manhattan riffs to the minty-sweet Polar Bear and the Negroni-leaning Loaded Pistol, these are the classic cocktails that make tequila a fan favorite. To celebrate this honorary spirit here are three essential cocktails you can whip up for you or your customers on National Tequila Day! 
Grilled Pineapple Jalapeño Margarita



This pineapple and jalapeño twist brings a sweet, smoky and spicy element to the classic. Bonus: after infusing your tequila with jalapeño, feel free to use it with all of your tequila favorites.
 
Ingredients:
3 oz tequila
2 1-inch thick slices of grilled pineapple, chilled
3 tbsp fresh lime juice 
2 tbsp agave syrup 
¾ cup water
1 tsp vanilla extract
crushed ice
grilled pineapple
lime wedges 
citrus salt or kosher salt 
Directions:
Cut pineapple into 1 inch thick rings, discarding the rind. Preheat grill to medium-high and oil it lightly. Grill pineapple for 4 to 5 minutes on each side, until you get nice grill marks and it begins to soften slightly.

Place the grilled pieces in a bowl and allow to cool completely in the refrigerator. Add jalapeño-infused tequila, orange-flavored liqueur, 2 slices of the grilled and chilled pineapple (and any juices that have accumulated in the bowl), lime juice, agave, vanilla extract and water to a blender. Process until smooth. If desired, strain to remove the pulp from the pineapple.

To salt the rim, run a lime slice or pineapple wedge around the lip of your glass and dip into salt to cover. Add crushed ice to your glass, pour in the margarita mixture, and garnish with extra grilled pineapple, jalapeño slices or lime wedges.

 
Bloody Maria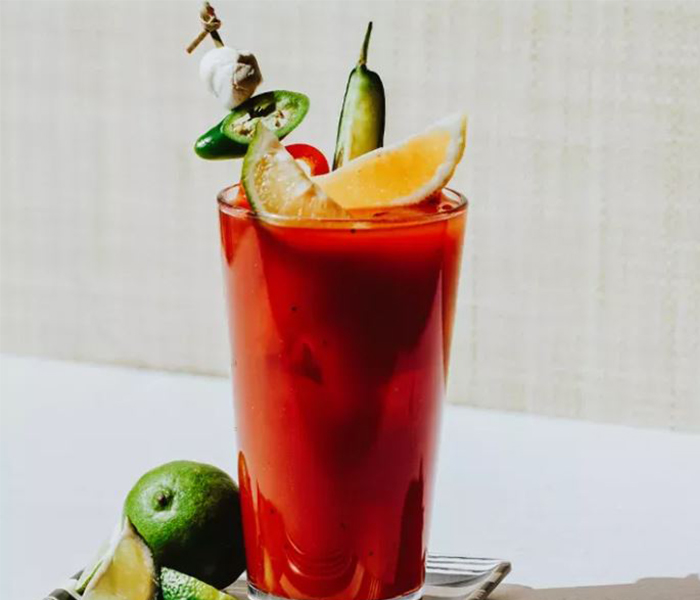 Your usual Bloody Mary is fine, but the addition of tequila and hot sauce takes the brunch favorite to new heights. This version has likely been around for decades, but this recipe brings it to a higher level of perfection with a mix of tequila, tomato, savory spices, and two kinds of hot sauce. 
Ingredients:
2 ounces tequila
4 ounces tomato juice
1/2 ounce lemon juice, freshly squeezed
1/2 tablespoon prepared horseradish, to taste
4 dashes Worcestershire sauce
2 dashes Tabasco sauce
2 dashes Tapatio hot sauce
1 pinch celery salt
1 pinch ground black pepper
Garnish: lime wedge
Garnish: lemon wedge
Garnish: cucumber spear
Garnish: sweet pepper slices
Garnish: jalapeño pepper slices
Garnish: queso fresco 
Directions:
Add the tequila, tomato juice, lemon juice, horseradish, Worcestershire sauce, Tabasco, Tapatio, celery salt, and black pepper to a shaker and fill with ice.
Shake briefly and strain into a pint glass filled with fresh ice.
Garnish with a lime wedge, a lemon wedge, a cucumber spear, and a skewer of sweet pepper slices, jalapeño slices, and queso fresco.

Vida Paloma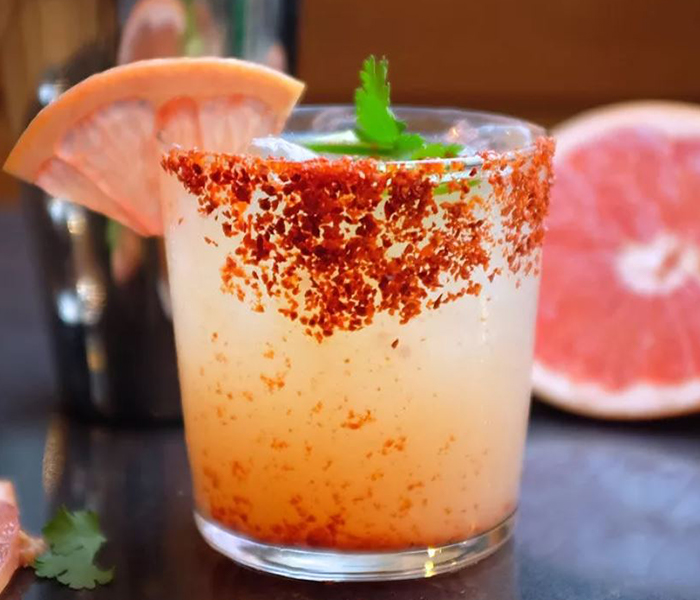 The Vida Paloma is earthy, savory, refreshing, and citrusy—everything you want in a good cocktail. However, the real wild card is the spicy chile piquin, a dried and pulverized hot pepper with a smoky-citrusy flavor that's used to rim the glass. It provides a dose of spice that begs for another cooing sip.
Ingredients:
2 ounces mezcal
3 ounces grapefruit juice, freshly squeezed
1/2 ounce simple syrup
1/4 ounce lime juice, freshly squeezed
2 ounces club soda, to top
Garnish: chile piquin rim
Garnish: grapefruit quarter wheel
Garnish: cilantro sprig
Garnish: jalapeño round
Directions:
Rub a lime wedge on a rocks glass and rim half the glass with chile piquin.
Add the mezcal, grapefruit juice, simple syrup, and lime juice into a shaker with ice and shake until well-chilled. Strain into the prepared glass over fresh ice.
Top with the club soda. Garnish with a grapefruit quarter wheel, cilantro sprig, and jalapeño round.