March is Women's History Month, and March 8 is International Women's Day, a day dedicated to celebrating women's achievements, raising awareness about discrimination, and taking action to drive gender parity. 
Let's start with some stats. According to the United States Census Bureau, there are approximately 167.5 million women in the United States. That's 50.5% of the population. Of those 167.5 million, 40% are the primary earners in their households. Women also account for 70-80% of household spending and control $10 trillion in financial assets. 
The truth is, women have money and aren't afraid to spend it. But they are growing increasingly discerning in whom they give those dollars to—the people, the values, and the story behind a brand are becoming as important as the products themselves. 
The alcoholic beverage industry has a lot of work to do in the arena of equity, inclusion, and diversity. Currently, there's a huge gap in the ratio of men and women in leadership across the market:
• As of 2021, only 24% of C-suite positions in the alcoholic beverage industry are held by women—and only 4% by women of color (Women of the Vine & Spirits)
• Only 5% of the independently owned wineries in California and Oregon are women-owned. (American Association of Wine Economists)
Recent years have shown modest improvements as more women-owned brands and women executives find creative ways to break barriers and blaze their own paths. And on/off-premise businesses can play a big part in helping the move the industry toward greater parity (plus it's just smart business).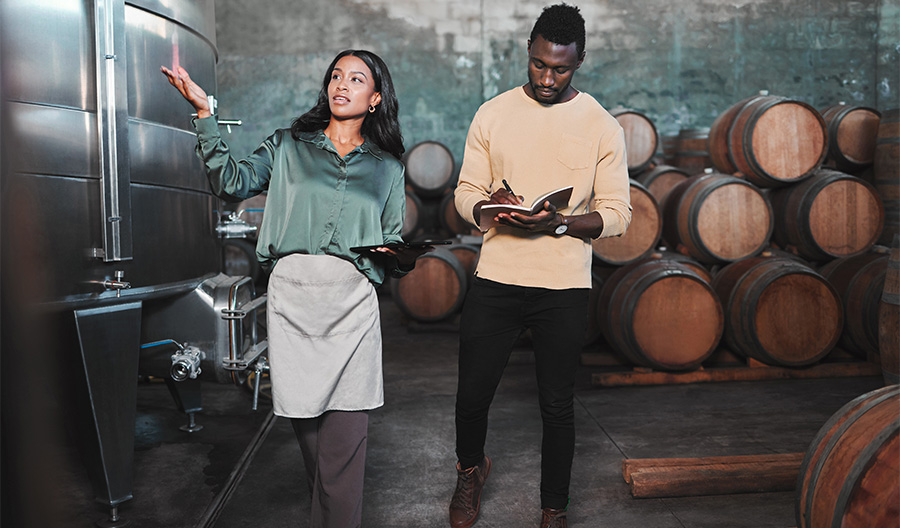 Here are just a few ways you can support women in the beverage alcohol industry during Women's History Month and throughout the year: 
• Take the time to research women-led brands, producers, and entrepreneurs. 
• Look beyond big brands and develop relationships with local or regional producers. 
• Add more women-owned products to your shelves or menu and feature them prominently. 
• Educate and train your staff on these products and the stories behind the brands.
• Highlight women-owned brands on your social media, and engage with their brands' social media communities, too.
• Host dedicated tasting or promotional events that include a strong educational component. 
• Reach out to your SG sales rep and get their help in finding local/regional producers to highlight and promote or invite to tasting events. 
Proof.com has a wide range of women-owned brands to choose from. A few options are listed below to get you started. Be sure to use the "Diverse-Owned Brands" search filter to see all the products available in your area. 
Spirits
Co-founder Kristen Risk started Frankly Organic Vodka after discovering a lack of ingredient transparency within the spirits industry. The Austin-based brand prides itself on offering 100% handcrafted, organic vodkas made with "real fruits, roots, and botanicals," and no artificial colors, flavors, refined sugars, or synthetic pesticides. They also give back one percent of revenue to animal welfare through their Frankly Fido program. 
The Shibui Whiskey line launched in October 2020 as part of IND Beverages, a full-service beverage marketing agency founded and owned by sisters Lauren and Rachel Simmons. The most awarded Japanese whisky brand to launch in the US, Shibui whiskies are crafted by multiple award-winning distilleries from the Niigata and Okinawa regions of Japan.
Founded by model and entrepreneur Kendall Jenner, 818 Tequila keeps sustainability front and center. Their distillery runs on biomass and solar power; all labels, corks, and boxes are certified by the Forest Stewardship Council; and their 818 Bricks program transforms leftover agave materials into bricks, which are donated to community construction initiatives across Mexico.  
Wines
Christine Hanna has led this Sonoma-based, family-owned winery since 1990. From its modest beginnings as a 12-acre homestead in 1985, Hanna grew the company to include over 250 acres in five premier vineyard locations, with an annual production of 50,000 cases of Sauvignon Blanc, Chardonnay, Cabernet Sauvignon per year.  
Banshee winemaker Alicia Sylvester grew up pulling her red wagon behind the picking crew that harvested her family's 20-acre Zinfandel vineyard in California's Central Valley. After working in wineries across the globe—including Australia, Italy, South Africa, and Argentina--Sylvester joined the Banshee brand, using her broad experience to create wines that "taste like the best California has to offer, priced so that everyone (can) enjoy them."
Ferrari-Carano has not one, but three incredible women at its helm. Winemakers Sarah Quider, Natalie West, and Rebecka Deike oversee the creation of every wine in this Sonoma-based brand, which includes 24 certified sustainable estate vineyards in six appellations, totaling approximately 1,200 acres.
La Scolca CEO Chiara Soldati is the fourth generation of the Soldati family to lead this 103-year-old Italian winery. In 2022, Soldati was appointed as one of the 25 Cavalieri del Lavoro (Knights of the Order of Merit for Labor) by the President of the Italian Republic. One of the country's highest honors, this title is awarded to those "who have been singularly meritorious" in agriculture, industry, and commerce.