Whether you're a seasoned bartender or a budding mixologist, it's important to know your classic cocktails. But what is a classic cocktail, exactly? After all, there are hundreds of classic cocktails and the phrase is probably going to mean something a bit different to everyone.
In the Oxford Companion to Spirits & Cocktails, drinks writer Robert Hess acknowledges that it's hard to pin down a precise definition, but "the establishment of a canon of classics was an important part of the success of the 21st-century cocktail renaissance."
For this list, we defined classic cocktails as drinks that were around before or invented during America's Prohibition—aka the period between 1920 and 1933—and should still be staples at your bar today.
From an Old Fashioned to the Tom Collins, here are the best classic cocktails to know.
1. Old Fashioned
At its core, this classic cocktail is a simple combination of whiskey (usually bourbon or rye), sugar and bitters. But don't let its simplicity fool you. The Old Fashioned has been enjoyed in the U.S. since the 1800s, and continues to be a bar staple.
2. Classic Martini
With countless variations and a key role in the James Bond franchise, no one can deny the martini's iconic nature. For this list, we're going with the classic gin martini. Its origins are murky, but it's believed the drink either came about in Gold Rush-era San Francisco (albeit a different version than we know today) or was created by Martini & Rossi in the 1800s.
3. Whiskey Sour
Made with three simple ingredients—whiskey, citrus and sugar—the whiskey sour represents a time-honored, winning cocktail combination. It's believed to have first been mixed in the early 1800s, but there aren't any written records of it until the 1860s.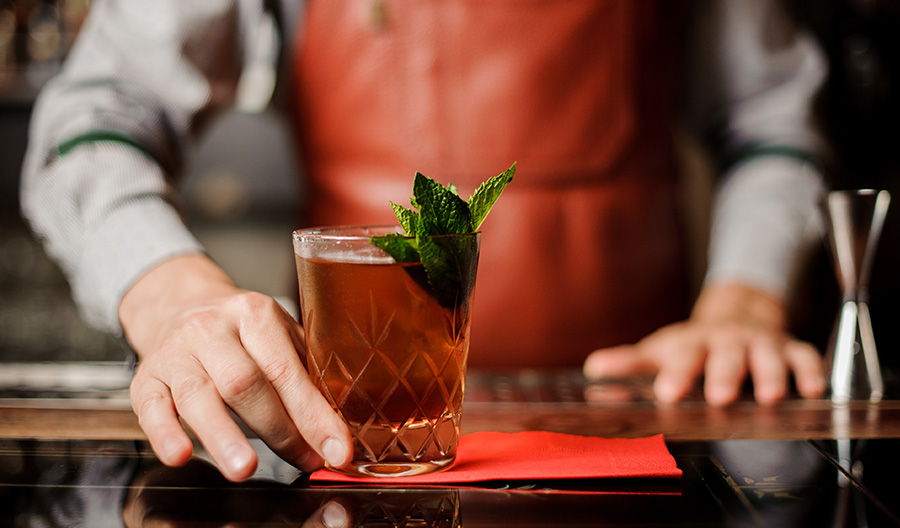 4. Negroni
A Negroni is a red-hued cocktail made from equal parts gin, Italian bitter red liqueur, and sweet vermouth. And while this drink can be polarizing, its legacy goes all the way back to Florence, Italy, in 1920.
5. Manhattan
Sure, New Yorkers might be a bit biased in saying that few cocktails are as iconic as the Manhattan, but don't take our word for it. This cocktail has been sipped since the mid-1800s.  
6. The Hemingway Daiquiri
Considering that Ernest Hemingway once said, "Don't bother with churches, government buildings or city squares, if you want to know about a culture, spend a night in its bars," it's only fitting that the writer has his own drink. The Hemingway Daiquiri incorporates red grapefruit juice, white rum, lime juice and maraschino liqueur, a combo enjoyed since the 1930s.
7. Pimm's Cup
This cocktail traces its origins across the ocean to London in 1832. It's a fizzy, slightly spicy and refreshingly tangy sipper that comes artfully garnished.
8. Mint Julep
Synonymous with the Kentucky Derby and fancy hats, the mint julep has earned a prominent place in American cocktail culture. Variations of this drink have been consumed for centuries, but the first mint julep was likely drunk at the first Derby in 1875.
9. Tom Collins
The Tom Collins is crisp, clean, and has mouth-watering acidity, so it's no wonder people have been drinking this concoction since the 1800s.
10. Sazerac
A close relative of the Old Fashioned, the Sazerac is believed to have been invented by Antoine Amédée Peychaud, a Creole apothecary from what is today Haiti. After he immigrated to New Orleans, Peychaud began marketing his mixture of bitters, water, brandy and sugar as a cure-all. People grew fond of the drink, and, in 2008, the Sazerac became the city's official cocktail.
11. Gin & Tonic
The gin and tonic has been consumed for well over a century. Like most of the drinks on this list, its origins aren't entirely clear. But one popular story goes that the drink was created as a way to make quinine—an antimalarial drug—more palatable to British soldiers and officials during England's occupation of India.
12. Last Word
Believed to be one of the earliest renditions of a sour cocktail, the Last Word came about in Detroit in 1916. Legend has it that the drink is named after vaudeville performer Frank Fogarty, who always got the "last word."