Spring is right around the corner! And with the impending promise of warmer weather, longer days, and fresh growth, now is a great time to spruce up your bar space and menu to coincide with the changing season. 
First up (and you knew this was coming): the spring clean. Even with the most meticulous daily cleaning routine, every space needs a no-corner-overlooked, no-surface-unscoured scrub to tackle that inescapable winter grime. In addition to your usual cleaning tasks, be sure to add the following to the to-do list:
Deep clean floors, baseboards, furniture, and windows
Dust and wipe down all light fixtures, bar shelves, and wall décor 
Vacuum all corners and crannies for cobwebs
Hire a professional to clean all textiles/upholstery (carpets, curtains, chairs, etc.); repair or replace as needed 
Switch out seasonal décor
Deep clean and service any equipment (soda guns, kegs, refrigerators, ice wells, icemaker, etc.) 
Prepare any outdoor/patio spaces: 
Dust and wipe down all chairs, tables, and furniture
Power wash or mop patio floor
Clean/service any outdoor fans or heaters 
Once your space is sparkling, it's time to tackle that bar menu.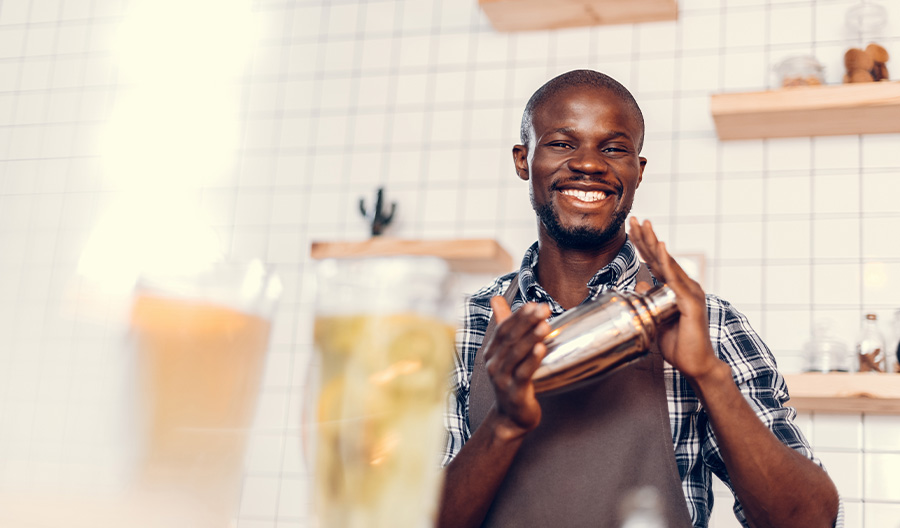 A good place to start is your wine list. Swap out heavier fare for sparkling wines, crisp whites, and rosés. For reds, consider light or medium-bodied options like Pinot Noir, Sangiovese, or Grenache (and remember, it's ok to lightly chill these types of reds—it enhances their fruit flavors). If your bar serves food, don't forget to update your pairing suggestions. 
As for the spring cocktail menu, think all things refreshing, fruity, and fun. Herbs like lavender, mint, and thyme pair beautifully with berries, citrus, peach, and bubbly of all varieties.  Cocktail classics like mojitos, peach bellinis, and sangria are always easy crowd-pleasers; but don't be afraid to explore fresh new combinations like pomegranate and thyme, lemonade and lavender, or strawberry and chamomile. 
Ok. Your bar looks like a million bucks. Your drink menu is locked in. You're ready to throw open those doors and toast to spring. Now all you need are the customers. Spring is a great time to harness the spirit of the season and roll out some creative marketing campaigns to keep your customers engaged and attract new clientele.
Social media is a great place to start. Some tactics you might consider include:
Teasing or announcing your latest menu additions to build up excitement (and don't forget to include high-quality pictures of those beautiful new cocktails) 
Have your followers vote for what spring-themed cocktail they'd like to see on the menu (have three or four pre-selected options)
Run a like/subscribe contest for gift cards or coupons 
There are plenty of offline, in-person options to consider, as well. Happy hour or brunch specials, spring-themed wine/cocktail tastings, mixology classes, or live music events—get creative and have fun with it! 
Oh, and don't forget to update your website to reflect all that gorgeous spring-themed goodness!