In late 2022, everyone was talking about the Negroni Sbagliato—even if they didn't know how to pronounce it. 
The less familiar Negroni variation, created in Milan in 1967, experienced an unexpected moment in the spotlight when it was name-checked in an interview with two House of the Dragon stars that was posted on TikTok. The clip went viral, and the half-century-old cocktail—literally just a Negroni with prosecco replacing the gin, resulting in the addendum sbagliato, which loosely translates to "broken" or "mistaken"—was suddenly being ordered en masse in bars around the world.
Today, the prosecco supply chain has finally had a chance to recover, and time will tell how many former Negroni adherents who tried a Sbagliato for the first time last year will make a permanent shift to the lighter version of the drink. One thing's for certain, though: there will be more surprise-hit cocktails to come. But what will they be? 
Some publications have predicted that the Hugo Spritz, an elderflower-based cocktail first introduced in northern Italy in 2005, is destined to make a big appearance in 2023. But are there other sleeper contenders that might come out of the shadows to claim viral beverage dominance?
We asked some of the nation's top bar professionals what they think might be the next cocktail to make a big unexpected splash. Here are their predictions.
 The Midori Sour: A Vintage Drink, Revisited and Reinvented
"I think what's trending are those old-school cocktails that kind of got lost or bastardized in the '80s," says the co-owner/bartender at a bar in Phoenix.
Increasingly, she and her staff have been fielding requests for vintage drinks of the type that generally got ignored during the craft cocktail revival—and have been looking for opportunities to update them for the discerning palates of today. 
"Recently, one of our bartenders at Highball made a Midori Sour with a touch of yuzu juice in it, and it was absolutely fantastic," she shared. "I'm also intrigued about a possible frozen Midori Sour from a machine—which sounds amazing right now since it's 114 degrees out here." 
The Negroni Sbagliato was an update of a drink that everyone's already aware of, and she feels there's no shortage of well-known cocktails just begging for modern reinterpretations. 
"I think it's cool to jazz up cocktails in a new-age way, using techniques like clarification and carbonation, draft cocktails, etc.."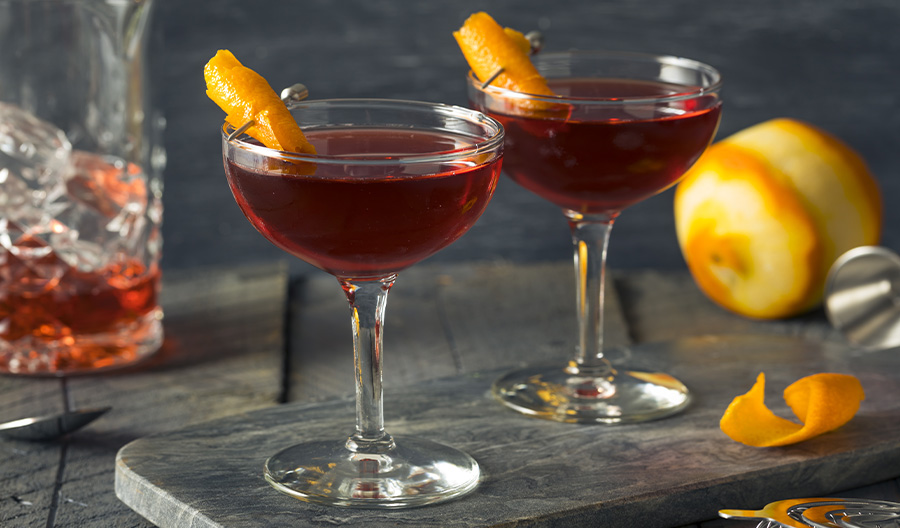 The Bamboo: A Century-Old Low-ABV Classic
"I think the next big drink is—or ought to be, at least—the Bamboo," says the bar manager at a popular restaurant in Playa del Rey, Calif. 
"With low- and no-alcohol drinks popping up everywhere, it makes sense that something so delicious, crushable, customizable, and cost-effective would become popular." 
For several years now, bar pros have been scrambling to meet the increasing demand for low-ABV cocktails, but those who are intrepid enough to crack a vintage cocktail book will discover that lower-alcohol tipples were a mainstay of cocktail programs in the decades before Prohibition.
Originating in the 19th century, the Bamboo is a balanced and aromatic cocktail that employs a base of two different fortified wines—sherry and dry vermouth—in lieu of spirits. While some bartenders make their Bamboos dry and lean by using fino sherry, he likes utilizing two different sherries—dry, nutty amontillado and rich, sweet pedro ximenez—which results in a layered, complex drink that will appeal to any fan of classic stirred cocktails.  
"Bamboos have it all: they're classy, they're delicious, they're obscure enough for the hipsters," he says. "Perfection!"
 Clarified Milk Punch: Texture That's Worth the Effort
A drink that bartenders love to serve but hate to make, the Clarified Milk Punch is a labor of love—which may be why it hasn't exactly become a household name yet. 
First popping up on American cocktail menus around 2015, Clarified Milk Punch has a history that dates back several centuries prior; Benjamin Franklin sent a friend a recipe for his favorite Clarified Milk Punch all the way back in 1763. And the drink remains basically as labor-intensive now as it was then. 
The "clarified" bit in its name refers to removing the solids in the milk by forcing it to curdle (by using heat, citrus, alcohol, or typically a combination of the three), and then filtering those solids out. The result is a cocktail with the creamy texture of milk, but one that's totally clear (and also shelf-stable), making it an extremely unique and versatile addition to bar programs. 
The beverage director at a cocktail bar in San Diego, thinks that the Clarified Milk Punch is due for its big break—although she admits that the clarification process "can be challenging in the scientific sense, as well as in the flavor world." 
She has taken her Milk Punch to the next level by incorporating flavors she encountered on a trip to one of the world's most exciting emerging cocktail destinations. "I went to Mexico City for the first time last month," Ferreira says, "and [Clarified Milk Punches] were all over menus." 
Her Milk Punch recipe incorporates aged cachaça, oloroso sherry, and sarsaparilla bitters—and also happens to be vegan, as she's employed coconut milk as the texture element. 
Her recipe is proof of the versatility of Clarified Milk Punch, and she believes that this category of cocktail holds endless potential. "I have waxed poetically on my belief that no cocktail is better clarified than the original version," she says, but "I have been humbled."
Ranch Water: Crafted for Refreshment
The bartender/owner at a bar in Kansas City, Missouri, predicts that Ranch Water will continue its reign as a warm-weather favorite. "It's the perfect combination of effervescent sparkling water, the thirst-quenching freshness of lime juice, and the backbone of a 100% agave, additive-free tequila." 
Likely originating in West Texas, and first appearing on menus under its current name in the late 1990s, Ranch Water is revered both for its refreshing qualities and, with just three ingredients, how refreshingly easy it is to make.
"With agave spirits exploding in sales over the last three years, modern classics like Ranch Water are seeing a strong upward trend across the country. There are even RTD versions now." 
Indeed, canned offerings can now be found on shelves nationwide, but he prefers making the drink fresh—in fact, he's been known to skip the glass entirely. 
"My go-to spec is to take a swig of sparkling mineral water, add 1½ ounces of a tequila blanco, and ½ ounce of fresh lime juice."
Even the simplest cocktails can benefit from a little extra complexity. "A grapefruit sparkling water is delicious if you want a more layered flavor profile," he adds.