With the colder months just around the corner, it's only natural to be looking to Whiskey as the spirit of choice to help us endure the coldest days of the year!  
What makes bourbon and whiskey so suitable for chilly weather? It's two things, the flavor profiles pair perfectly with cozying up by the fire and your favorite comfort foods.  Notes of sweet caramel, nutty, smoky, or spicy all go well with other seasonal favorite flavors like apple, maple, cinnamon, and cloves. From apple cider-inspired cocktails in October to more decadent concoctions in December, bourbon works its seasonal magic in a way other spirits can't.  Secondly, Alcohol triggers the nerves that respond to hot vs. cold. Alcohol in concentration, as with Whiskey, triggers the nerves that respond to heat. It makes your brain think you're warm.
When it comes to the Whiskey consumer, they tend to be predominantly male, younger, and more active in the on-premise compared to the average US Consumer according to Nielsen CGA.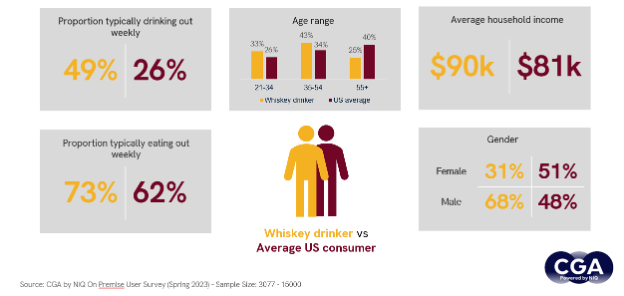 So, what cocktails should you look for this season?  And which are the best whiskeys to pair with them?   Here are a few recommendations of the top-ranking cocktails for Whiskey Cocktails and the top 25 whiskey brands in retail.  
Cheers!
Top 20 Whiskey Cocktails