Let's get real: Thanksgiving is basically the game day of holidays. It's not only a time to showcase your culinary expertise, but also a chance to flex your wine knowledge. After all, what better way to elevate the holiday's requisite smorgasbord than with expertly-chosen wine pairings?  
Of course, that's easier said than done. Thanksgiving wine pairings can be a high-stakes game, especially if your guest list runs long. With a wide range of bold flavors on the table and so many palates to please, there's plenty that can go wrong.  
But don't fret. We've tasked Wine Enthusiast's Tasting Department with selecting the perfect bottles to complement Thanksgiving-ready dishes from our recipe library, which is filled with modern takes on holiday classics from juicy white wine-brined turkey to bourbon-spiked pecan pie. Consider this your official Thanksgiving wine pairings cheat sheet.
With these tempting food and drink pairings, your Thanksgiving is sure to be guaranteed touchdown.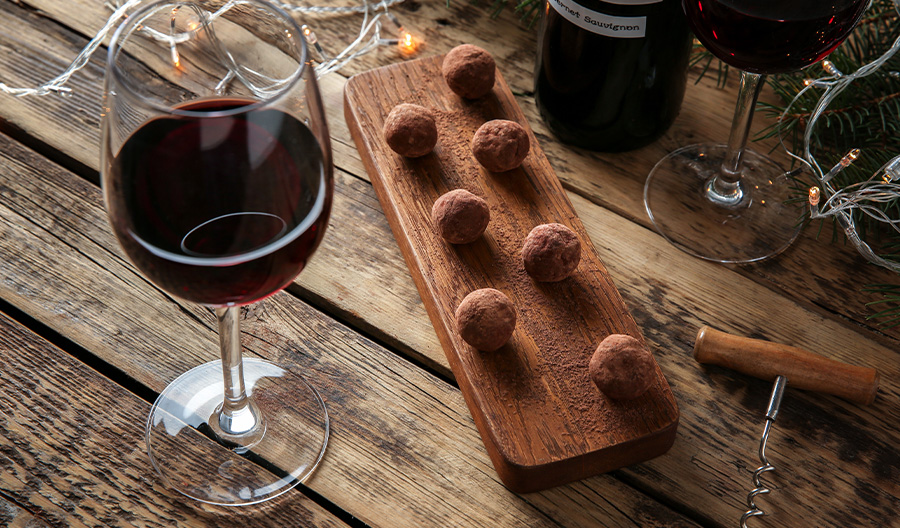 The Best Wine to Pair with Turkey: Dry White Wine
Toasted wood chips lend a smoky character to a White Wine-Brined Turkey, which shines even more brightly beside this juicy, thirst-quenching dry white wine.
The Best Wine to Pair with Roast Carrots: Californian Pinot Noir
Is Thanksgiving dinner feeling too heavy? Even it out with a light Ash-Roasted Carrots side, which also features honey-laced granola packed with toasted flax, pumpkin, white sesame, and sunflower seeds, plus hemp hearts. Pair it with a straightforward Pinot Noir.
The Best Wine to Pair with Mashed Potatoes: Grüner Veltliner
A punchy side of Blue Cheese Whipped Potatoes might just steal the spotlight from your turkey centerpiece. Serve it alongside a rich and fruity Grüner Veltliner.
The Best Wine to Pair with Roasted Brussels Sprouts: Albariño
Be the one to finally convince everybody that brussels sprouts are actually good with our bacon-laden Roasted Brussels Sprouts offering. It goes fantastically with this light yellow-hued Albariño, which packs flavors of lemon, white peach, passion fruit, dried thyme, and almond.
The Best Wine to Pair with Cranberry Sauce: Beaujolais
A fresh, sweet-and-tart spin on "Canned" Cranberry Sauce finds a perfect partner with a dry red Beaujolais, which is structured with plenty of firm tannins and filled with black fruit flavor.
The Best Wine to Pair with Cornbread Stuffing: Chardonnay
No matter if you're a stuffing or a dressing person—if it's prepared inside the bird, it's "stuffing," but on the outside, it's "dressing"—Cornbread and Fennel Sausage Stuffing is sure to be a hit. The dish's fatty undertones, supplied by rendered pancetta fat or turkey drippings, beg to be paired with a chalky-structured Chardonnay.
The Best Wine to Pair with Macaroni and Cheese: Chenin Blanc
Why settle for regular mac and cheese when you can have Fondue Mac and Cheese? Rich and creamy, it's a delightful counterpoint to this fresh, textured Chenin Blanc, which serves up tight acidity and notes of green fruit and citrus.
The Best Wine to Pair with Apple Pie: Sauternes
It isn't quite Thanksgiving without pie. We're partial to Whiskey Old Fashioned Apple Pie, which combines the heady flavors of a traditional apple pie with a those of a classic whiskey cocktail, the Old Fashioned. It cries out for a glass of honeyed Sauternes, which conveys notes of apricot fruits and ripe orange peel.
The Best Wine to Pair with Pecan Pie: Tawny Port
Not into apple pie? Go the nutty route with a dark brown sugar-packed Bourbon, Almond, and Pecan Pie. Pair slices with glassfuls of a fruit-forward Port.