Light-bodied Wines to Recommend to Your Customers for Spring
As spring approaches and winter's icy grip begins to lessen, warmer temperatures and rain thaw the earth, and flowers again spring forth throughout North America. The fresh, blooming fragrance in the air suggests light, fresh, floral-scented white wines to enjoy as the weather warms up. Here are five favorites, a few perhaps slightly out of the spotlight, yet definitely worth seeking out and enjoying. 

Albariño

This white wine variety is native to Galicia, Spain, and has become one of Spain's most recognizable wine styles and is very popular in the North American market. It is easy to understand why. It is aromatic with notes of acacia blossom, lime, and peach with a hint of fresh, green herbs. Taste-wise, it is dry and medium in body, with refreshingly crisp acidity and finishes with a slight touch of salinity. Albariño is a great food wine as well, pairing nicely with sea fare such as pan-seared scallops in lemon beurre blanc with risotto and spring asparagus. Albariño is also easy on the wallet, with most wines selling in the $12 to $20 retail range. 

Chenin Blanc

This variety, native to France but also popular in South Africa and California, is made in a rather wide range of styles, from dry to dessert-level sweet. The most encountered interpretation of this white wine chameleon is from the appellation of Vouvray in the Loire Valley. Here, the style includes sparkling as well as still white wines ranging from dry (sec), to slightly sweet (tendre) to medium sweet (demi-sec) to sweet (moulleux). The slightly sweet tendre is the style most often encountered at retail and restaurants, although this terminology is not always found on the label. Vouvray is a classic spring (and summer) wine, fresh and aromatic, with floral notes of night-blooming jasmine and honeysuckle, hay, chamomile, lime, and green apple. The taste is just slightly sweet, balanced by bracing, high acidity with a mineral, stony touch on the finish reminiscent of cold mountain spring water. Try this wine with pappardelle pasta with grilled shrimp, fennel, and fresh spring peas. 

Falanghina

Pronounced with a hard "g" sound, Falanghina offers up an interesting alternative to that better-known Italian variety, Pinot Grigio. Falanghina is grown almost exclusively in Campania, Italy, where it is the most widely planted white wine variety. Falanghina has fresh, green, leafy aromas coupled with ripe stone fruit notes, like apricot and nectarine. It is dry and fleshy on the palate with refreshing acidity. Enjoy Falanghina with smoked chicken in a creamy parmigiana sauce with diced tomatoes and fresh basil. 
The fresh, blooming fragrance in the air suggests light, fresh, floral-scented white wines to enjoy as the weather warms up.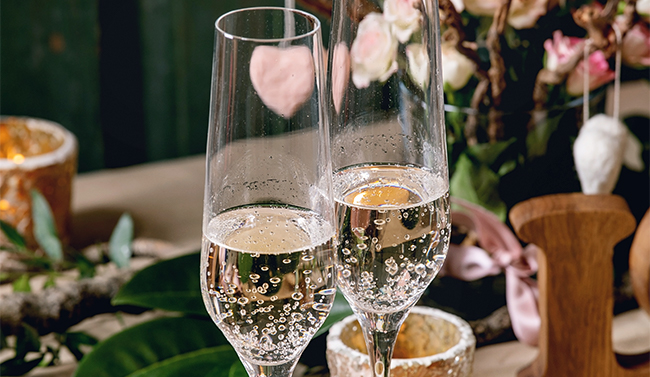 Pinot Blanc

One of the several mutations of the red wine variety Pinot Noir, Pinot Blanc is most closely associated with the vineyards of Alsace, France, although it is more widely grown in the northeast of Italy (notably in the Alto Adige) where it is called Pinot Bianco, and even more widely grown in Germany under the name Weissburgunder. All three versions produce similar wines of good quality, although the cooler climate in Alto Adige results in a slightly lighter, brighter style featuring fresh, high acidity. In Wine Grapes (Robinson, Harding, Vouillamoz) the wine is described as being "a lip-smacking halfway house between refreshment and opulence." I find the wine to be similar to unoaked Chardonnay, but slightly less full-bodied with higher acidity. It has notes of apple blossom, fresh almonds, lemon, and ripe pear. Try Pinot Blanc with flatbread topped with goat cheese, caramelized onion, and fresh tarragon.
 
Vermentino

Last alphabetically here but certainly not least, the very name describes springtime freshness. "Ver" indicates the color "green" in wine grapes like Verdejo, Vermentino, Verdicchio, and more. All produce crisp, fresh, lighter-bodied wines suitable for spring drinking. Vermentino is an Italian variety, and although grown on coastal Tuscany and Liguria as well, the most notable versions hail from the island of Sardinia. Look for the appellations Vermentino di Sardegna for a super affordable, refreshing version, and Vermentino di Gallura for more complexity. Both offer fresh fruit aromas of citrus like grapefruit and lime, white peach, almond, and white flowers. Crisp, fresh, and dry on the palate, with green, herbal notes, citrus zest, bright acidity, and a note of crushed almond on the finish. Few pairings could be better with this wine than grilled Mediterranean Sea Bass sprinkled with extra virgin olive oil, sea salt, pepper, a spritz of lemon, and a sprig of fresh rosemary. 

Of course, there are many more white wines (not to mention sparkling, rosé and red) that could be included here, but discovering and experiencing these five interesting wines are more than enough to help kickstart your spring season with delicious eating and drinking. Bon appétit!