Preparing Your Business for Game Day Sunday
Game Day Sunday is one of the biggest events of the year and is a huge day for beer sales. Salty snacks, dips, and wings reign supreme, so merchandise them with the beer, where legal, if you have a store or restaurant. You could even create a whole Game Day-themed menu page dedicated to them in your venue. Retailers who can't sell food can recommend ideal beer pairings for different types of wings and snacks.

Beers for these types of foods should be refreshing. No matter which teams are competing that day your customers will love a refreshing beer to drink on game day. So think about offering new and exciting options for your customers.

If you own a store, build out a fun, interactive beer display. It could feature the names of competing teams or spell out "NFL" in beer bottles. It might even generate interest in new brews with which to celebrate the game.

Make sure your delivery services are up and running for the whole day. If you don't have a solid network you might want to reach out to well-known local and national delivery services that work in multiple markets. Touch base with regular customers ahead of time and see what their needs are a few days before the big game. Hire extra staff for delivery needs on the day of—and the day before—as they will certainly come in handy.

Pay homage to where the event is held and those halftime performers. This year's Super Bowl will be held in Arizona's State Farm Stadium. So maybe Arizona-inspired drinks can be featured in your restaurant's celebration this year as well. When you think about spirits in the desert of Arizona, tequila is the first that comes to mind. Perhaps the Rise Up Red Sea cocktail, (Rise up Red Sea is a reference to the Cardinal fans, aka the Red Sea) made with tequila, bitters, and watermelon syrup will add some spice to your menu. 
Game Day Sunday Sunday is one of the biggest events of the year and is a huge day for beer sales.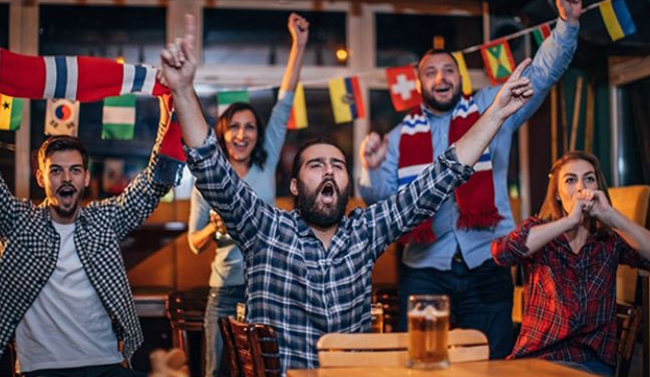 More women are watching the game than ever before: they currently account to close to slightly less than half of the viewers. This means that you can also merchandise a wider range of wines, spirits, and hard seltzer products than ever before. Some female consumers, along with their male counterparts, are more health-conscious than ever before. So bring on the cauliflower and carrots in your Game Day food mix (and some great beer and wine pairings for these challenging vegetables).

Dedicated fans are disposed to spend a lot on the game. That may include new televisions, as well as classic food and beverage options. Americans drink 325.5 million gallons of beer on Game Day Sunday, according to recent data from Men's Journal.

Even if fans want to celebrate in their homes, it is a great opportunity for restaurants to deliver wings and beers to their favorite customers watching comfortably in front of the TV. Use social media to advertise your Game Day promotions in advance with a focus on chili and refreshing beers. You might even want to offer additional discounts for customers who order ahead of the game: think a week or two. Convince loyal customers that they want to order from you and not the disappointing pizza place up the street.