There's a Spanish Wine for Every Drinker
Perhaps your wine of choice is a classic, made to age gracefully for decades. Or possibly, you swing modern, where ripeness and richness can't be denied. How about a white wine that's so fresh, you feel transported to the beach?

What if you like unusual or funky wines made from lesser-known grapes from places off the beaten path? Maybe you just want a great deal, where excellence doesn't cost an arm and a leg.

Where can you find all of these types of wines under one flag? The answer is Spain, the country with more acres of vineyards than any other wine-producing nation.

From the rolling hills of Rioja up to the high plains of Ribera del Duero, down to the coastal estuaries of Rías Baixas in Galicia, the Basque Country, the island of Mallorca and beyond, Spain offers something for every palate. It's a top source for world-class wines made from many grapes—some familiar, others obscure.

Traditional Stalwarts

Nowhere in Spain produces wines more classic in style than Rioja, where the Tempranillo grape rules. Old vines abound here in the country's most highly regarded and best-known wine region, especially in the subzones of Rioja Alta and Rioja Alavesa.

It's mostly in these older vineyards, which are planted almost exclusively to Tempranillo, that the country's most structured and age worthy reds originate. Garnacha, Graciano and Mazuelo (Carignan) can also be found here.

Rioja's made in a traditional style usually fall into the established reserva or gran reserva categories, which spell out the minimum number of years that a wine must spend in barrel and bottle before release.

While these requirements don't guarantee final composition, structure, balance, ageability, or quality, they are good indicators. The best Riojas are frequently gran reservas, which must be aged at least five years and spend at least 24 months in oak prior to release.

Modern Reds

The term "modern" is open to some interpretation, but a modern Spanish red can be defined as one that delivers a sense of ripeness and power, from the nose through the palate, flavor profile, and finish. It also should be contemporary, which means the inaugural bottling was in a year that most wine lovers can remember.

For argument's sake, let's say that the modern era in Spain began in the 1990s when a stampede of wines dark in color and packed with ripe fruit and new oak started to appear. Traditionalists and naysayers often claim that this style was fashioned to appeal to those enamored with bold, beefy reds like Napa Valley Cabernet Sauvignon, Australian Shiraz, and Argentine Malbec.

However, the style comes easy to winemakers in sun-blessed regions like Rioja, Ribera del Duero, Priorat, and the Levante. They just let the vines do their thing, then harvest later, macerate longer and put the wines into new French oak.
From the rolling hills of Rioja up to the high plains of Ribera del Duero, down to the coastal estuaries of Rías Baixas in Galicia, the Basque Country, the island of Mallorca, and beyond, Spain offers something for every palate.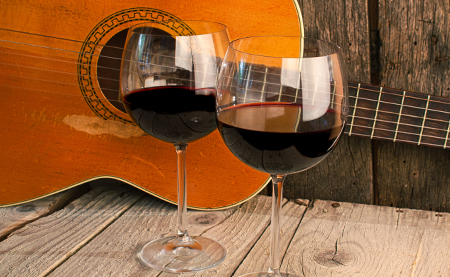 Elegant Whites

In Rioja, a quality barrel-aged Viura, also known as Macabeo, can be quite stately, with layers of salty complexity and bodyweight that are offset by bold acidity. Meanwhile, in Catalonia, white Garnacha, better known as Garnacha Blanca, produces fine wines across the map, particularly in the Terra Alta region.

For truly elegant white wines, however, look to the autonomous region of Galicia in northwest Spain. It's led by Albariño from Rías Baixas but also includes Godello from Valdeorras and Ribeira Sacra as well as Treixadura-driven blends from Ribeiro.

Why is Galicia considered Spain's hotbed for white wine? In a word: terroir. The region is cool and green, with a heavy maritime influence from the Atlantic Ocean. Granitic soils that range from bedrock in Rías Baixas to decomposed schist farther inland play a major role to impart elegance and minerality.

Hidden Gems

The Phoenicians made wine in Spain more than 3,000 years ago, followed by the Romans. Millennia of winemaking in Iberia means there are several hundred indigenous and imported grape varieties that grow today throughout Spain, although most commercial wines are made from around two dozen varieties.

Most Spanish wine lovers are probably familiar with grapes like Tempranillo, Garnacha, Monastrell (Mourvèdre), Albariño, Viura and Verdejo. Yet, the roster of those worth attention expands to include Bobal, Graciano, Godello, Treixadura, Loureiro and Mencía.

There's also room to appreciate wines made from so-called international varieties like Cabernet Sauvignon, Syrah, Merlot, Chardonnay and Sauvignon Blanc. Highly obscure grapes that offer quality bottlings include Maturana, Tintilla, Listán Negro and Listán Blanco. Basque favorites Hondarrabi Zuri and Beltza are used for Txakoli, the often spritzy high-acid wine that flows like water in cities like San Sebastián and Bilbao.

As consumer experimentation increases, diamonds in the rough are also emerging in the Canary and Balearic Islands.

Standout Values

The value should be Spain's middle name. With nearly every part of the country blanketed in vines, there's no shortage of well-made vino that won't break the bank.

A part of Spain that specializes in these so-called value wines is Aragón. The regions of Cariñena, Calatayud and Campo de Borja offer good and very good best-buy Garnachas, Carignans and red blends.

Rueda, located near the city of Valladolid, is home to easy-drinking Verdejo, not dissimilar to your average New Zealand or Chilean Sauvignon Blanc. Meanwhile, simple unoaked Viura-based bottlings from Rioja and the Penedès in Catalonia are a dime a dozen.

The Levante region, in the southeast corner of the country, is a hot, desert-like area that does well with strong-boned, full-bodied reds made from Monastrell as well as Garnacha Tintorera and Cabernet Sauvignon. Within this baking area, the Jumilla and Alicante wine regions have surfaced as some of the country's best spots for rich, spicy, chocolaty reds at everyday prices.