How to Upsell Wine
Helping new and loyal customers explore new wines and regions can be great for business. While you will never want to encourage staff to make aggressive sales moves, there are lots of subtle ways to interest your clients in higher-priced wines.

The principal approaches include opening guests' minds—and palates—to bottles they might not have considered on their own, helping them branch out, and always suggest purchasing a sparkling wine!

Where to Begin

A server or retail sales staff can close a wine sale by offering alternatives to well-known wines. Sharing insight about a lesser-known Champagne to bubble enthusiasts or a new producer in the Napa Valley for Cabernet Sauvignon lovers might just work.

Offer customers a number of choices in a range of price points – not just the higher-priced options. The guest may well pick the more expensive option. Start a table off with Champagne. Sparkling wine sales are also easy add-ons at retail for celebratory occasions that occur all year long.

Tell customers about brands that your staff loves. Personal suggestions can translate into purchases. Staff favorites may appeal to your loyal customers. Most stores promote their team's favorites with hand-written notes, but this is also an opportunity for on-premise operators to do the same. It can also help create a strong personal connection between your clients and your staff. Retailers may even want to place staff-generated ratings and descriptions of favorite wines for customers to review.
Offer customers a number of choices in a range of price points – not just the higher-priced options.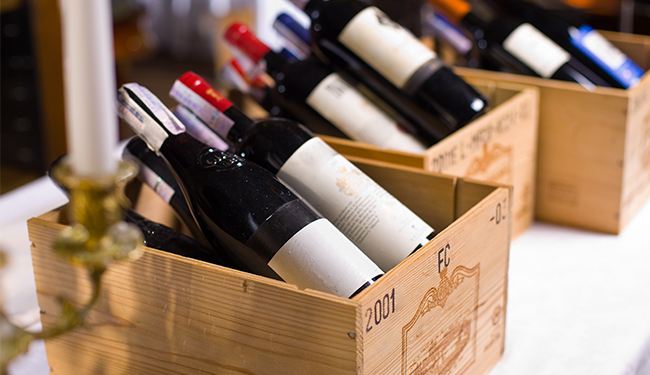 On-Premise Ideas
Wine by the glass has a nice return on investment. Half glasses are generally even more expensive. Offering half pours is a great way to subtlety score another sale. These wines can also be priced slightly higher than at 50 percent of the full, glass-pour price.

Along with sparkling wine, other aperitif wines can help to generate a higher ring. A nice bottle of Chablis or slightly off-dry Riesling is a great way to start a meal and can lead easily into the next course. Offering an interesting selection of dessert and fortified wines can also be a solid—and lucrative—way to end a meal. It is also a way for a clever sommelier to sell a full bottle, instead of just glasses, to the table.

Highlight wines on your lists or shelves that no one else pours. With the Coravin you can pour almost anything by the ounce and the rest of the bottle stays fresh. Give your customers access to a rare glass of Zinfandel, an old Bordeaux, or perhaps a cult Napa Cabernet Sauvignon.

The Bottom Line

Educating your staff is essential. A knowledgeable team will sell more wine. Sample wines with your staff and offer customers a chance to do the same. Tasting something new frequently results in your staff being better able to sell it, while offering tastings to guests may lead to sales on the spot.

Timing is everything. Teach your staff to approach customers when there is a lull in the conversation. Advise customers about wines that are new or available in limited quantities so they can get in on the action before they sell out. It is all about creating excitement in the dining room and on the sales floor.